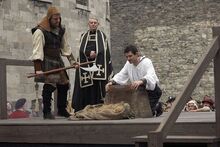 "The Undoing of Cromwell" is the twenty-eighth episode of The Tudors and the eighth and final episode of Season Three. The title refers to the driving event of the episode: the sudden downfall and execution of Thomas Cromwell at the hands of his many enemies, due to his loss of King Henry's favor in the previous episode- which in turn was due to him pushing Henry into marriage with Anne of Cleves. The episode also introduces the character of Katherine Howard, who becomes Henry's alluring new mistress; she will replace Anne of Cleves as his Queen in the subsequent season, as Henry is already seeking to end his marriage to Anne.
This episode marks the final appearance of Thomas Cromwell and Sir Francis Bryan.
Ad blocker interference detected!
Wikia is a free-to-use site that makes money from advertising. We have a modified experience for viewers using ad blockers

Wikia is not accessible if you've made further modifications. Remove the custom ad blocker rule(s) and the page will load as expected.