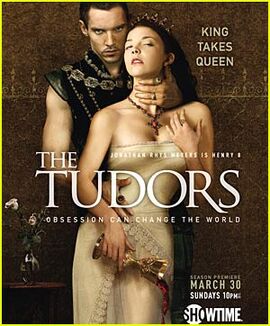 Season Two of The Tudors continues the story of King Henry VII and focuses mostly on the breaking of the Church of England from Rome, Henry's marriage to Anne Boleyn, and her eventual downfall in favor of Jane Seymour.
2.01 - Everything is Beautiful
2.02 - Tears of Blood
2.03 - Checkmate
2.04 - The Act of Succession
2.05 - His Majesty's Pleasure
2.06 - The Definition of Love
2.07 - Matters of State
2.08 - Lady in Waiting
2.09 - The Act of Treason
2.10 - Destiny and Fortune
Jonathan Rhys Meyers-King Henry
Maria Doyle Kennedy-Catherine of Aragon
Nick Dunning-Lord Thomas Boleyn
Jaime Thomas King- Thomas Wyatt
Jeremy Northam-Sir Thomas More
Anthony Brophy-Ambassador Eustace Chapuys
David Alpay-Mark Smeaton
Max Brown- Edward Seymour
Joanne King- Lady Jane Rochford
Bosco Hogan- Bishop John Fisher
Perdita Weeks- Mary Boleyn
Rod Hallett- Sir Richard Riche
Storylines
Edit
1531- early 1536.  With Wolsey- his main connection and hinderance to his battle with the Papacy- out of the way, and the powerful Boleyn family and Thomas Cromwell urging him towards Protestantism, King Henry prepares to open the Reformation in England by declaring himself Head of its' Church, in order to satisfy his desire to divorce Catherine of Aragon and marry Anne Boleyn.  The battle is far from easy, but time and again the Pope and Sir Thomas More underestimate Henry's refusal to submit to any authority above his own.  Rome's attempt to halt the process by assasinating Anne only inflames Henry further against Catholicism, leading him to marry Anne in secret and demand total obedience of the Catholic clergy in England; this leads to the unfortunate martyrdom of More and John Fisher.  
With Catherine- and the King's once-beloved daughter Mary- stripped of their royal titles, and Anne crowned Queen by the new, Lutheran Archbishop of Canterbury Thomas Cranmer, the Reformation seems assured.  But the Reformers themselves must now fear the absolute power they tempted the King with; only the shrewd Thomas Cromwell and Henry's old friend Charles Brandon know how to truly appease him.  Anne's marriage to Henry is soon shaken when she gives birth to a daughter, Elizabeth, rather than his long-awaited son; further tensions arise in their romance from his continued affairs, the dislike she earns from the nobility and foreign courts, and her suspicion of a conspiracy by Catherine and Mary to usurp or kill her.  Meanwhile Princess Mary tries to communicate with her dying mother by means of a friend from the Holy Roman Empire.  Anne and her family are further threatened by Henry's new interest in the demure Jane Seymour...
Character deaths in Season Two
Edit
Anne Boleyn (Destiny and Fortune)
Queen Catherine of Aragon (episode 2.07)
Sir Thomas More (episode 2.05)
Bishop John Fisher (episode 2.05)
Mark Smeaton (episode 2.09)
George Boleyn (episode 2.09)
Sir Henry Norris (episode 2.09)
William Brereton (episode 2.09)
Archbishop William Warham (episode 2.02)
Mr. Roose (episode 2.01)
Pope Clement vii (2.01, not shown)