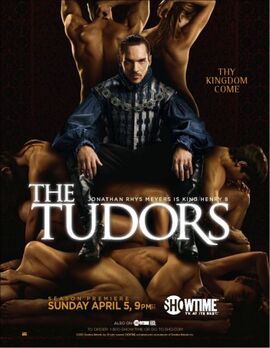 Season Three of The Tudors focuses on Henry VIII, twenty-seven years into his reign: his third marriage to Jane Seymour, his brutal supression of the Pilgrimage of Grace, and the birth of his son Edward.  It also highlights his depression following Jane Seymour's death, leading to his ill-fated marriage to Anne of Cleves, his subsequent sexual interest in Katherine Howard, and the downfall of his Protestant chief minister, Thomas Cromwell.
3.01 - Civil Unrest
3.02 - The Northern Uprising
3.03 - Dissension and Punishment
3.04 - The Death of a Queen
3.05 - Problems in the Reformation
3.06 - Search for a New Queen
3.07 - Protestant Anne of Cleves
3.08 - The Undoing of Cromwell
Jonathan Rhys Meyers-King Henry
Alan van Sprang-Sir Francis Bryan
Max Brown- Edward Seymour
Anthony Brophy-Ambassador Chapuys
Tamzin Mercheant-Katherine Howard
Simon Ward- Bishop Gardiner
Andrew McNair- Thomas Seymour
Rod Hallett- Sir Richard Riche
Joanne King- Lady Jane Rochford
Storylines
Edit
Mid 1536- mid 1540. Mere days after Queen Anne was executed and the Boleyn family thrown into disgrace, Henry VIII has remarried to Lady Jane Seymour and her family have taken up positions of power in his court.  However, the real winner of the bloody power struggle of the previous season is the King's ruthless, cunning chief minister Thomas Cromwell.  Henry's new, happy marriage repairs his fractured relationship with his daughters Mary and Elizabeth, but the newfound peace is disturbed by a Catholic-led rebellion in the North called the Pilgramage of Grace- a response to Cromwell's draconian measures against monasteries in the name of the Protestant Reformation, which he unwisely assumed most people would support.  The King's old friend, Duke Charles Brandon of Suffolk, and the Queen's Lutheran brother Lord Edward Seymour of Hartford, are sent to deal with the rebellions but Charles finds himself disillusioned as they are ordered to make increasing, brutal reprisals.  
Henry's joy at the birth of his son, Edward, is eclipsed by his grief, when Queen Jane dies only days later; with Henry withdrawn and in mourning, England is ungoverned and vulnerable to attack from the Catholic empires of Europe, in reprisal for the King's cruelty against the Pilgramage.  Cromwell's solution of a marriage to the Lutheran-German Anne of Cleves- which favors his own agenda, as he sees the Church of England as still being far too Catholic- would once again ignite an unintended power struggle within the royal court.  Like Cardinal Wolsey and Anne Boleyn before him, Cromwell's enemies are circling...
Character deaths in Season Three
Edit
John Constable (episode 3.03)
Lord Thomas Darcy (episode 3.03)
Robert Aske (epsiode 3.04)
Jane Seymour (episode 3.04)
Margaret Pole (episode 3.06)
Thomas Cromwell (episode 3.08)