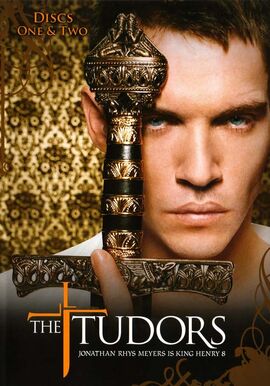 Season One of The Tudors began in 2007. It chronicles the life of the infamous King of England, Henry VIII, and takes place in the sixteenth century- focusing on his relationship with his unpopular Chief Minister Cardinal Wolsey, his newfound romance with Anne Boleyn, and his desire to annul his marriage to Catherine of Aragon in order to secure his dynasty.
1.01 - In Cold Blood
1.02 - Simply Henry
1.03 - Wolsey, Wolsey, Wolsey!
1.04 - His Majesty, The King
1.05 - Arise, My Lord
1.06 - True Love
1.07 - Message to the Emperor
1.08 - Truth and Justice
1.09 - Look to God First
1.10 - The Death Of Wolsey
Jonathan Rhys Meyers - King Henry VIII
Henry Cavill - Charles Brandon
Maria Doyle Kennedy - Queen Catherine of Aragon
Nick Dunning - Lord Thomas Boleyn
Henry Czerny - Thomas Howard, Duke of Norfolk
Callum Blue - Sir Anthony Knivert
Jeremy Northam - Sir Thomas More
Gabrielle Anwar- Princess Margaret Tudor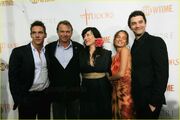 Jamie Thomas King - Thomas Wyatt
Anthony Brophy - Ambassador Chapuys
Padraic Delaney - George Boleyn
Bosco Hogan - Bishop John Fisher
Kris Holden-Ried - Sir William Compton
Steve Waddington - Duke of Buckingham
Storylines
Edit
1519-1530.  King Henry Tudor of England, even in his youth, is a changeable man, known for his temper and womanizing habits.  His earlier wars with the French have awoken his desire for battle glory, which he can gain again through conflict with the arch-rivals Spain and France; after much debate he sides with Spain, the birthplace of his Queen of ten years, Catherine of Aragon, despite the strain between him and his wife in private.  Henry's court is filled with low-born young men that he favors (including his best friend Charles Brandon and his rather corrupt chief minister, Cardinal Wolsey) to the resentment of the old nobility who once fought his father, such as the Dukes of Norfolk and Buckingham.  However, all seems prosperous and well in England in the eyes of Henry's friend and former teacher, the fundamentally Catholic Thomas More- despite the threat, in his eyes, of the Lutheran 'heresy' spreading across the Continent.
Trouble is brewing, however.  Cardinal Wolsey- who is constantly blamed by Henry's court for most unpopular acts- is traditionally able to get away with anything thanks to his standing with the King, but this has faltered since a rift developed between him and the Queen over recognition of Henry's bastard son.  Meanwhile, after a plot to usurp Henry is discovered- resulting in Buckingham's death- Henry fears for the survival of his dynasty, since Catherine has only given him a single daughter (Princess Mary) and can no longer bear children.  At this point, into Henry's life steps Anne Boleyn, a young noblewoman of charisma, intelligence and boldness.  Quickly becoming obsessed with her, Henry begins to explore options outside the Catholic doctrine he has so long respected, in order to obtain a legitimate male heir.  This quest puts Wolsey in an increasingly dangerous position, as he must appease the King while dealing with enemies on all sides, including both Catherine and the pro-Lutheran Anne.  Oblivious to the machinations of Anne's ambitious family, the rise of the mysterious Thomas Cromwell or the pain he is inflicting on his Queen, Henry presses onwards...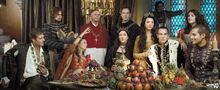 Character Deaths in Season One
Edit
Edward Stafford, Duke of Buckingham (Simply Henry)
Cardinal Wolsey (episode 1.10)
William Compton (episode 1.07)
Henry FitzRoy, Duke of Richmond(episode 1.05)
Princess Margaret Tudor (episode 1.09)
King of Portugal (episode 1.04)