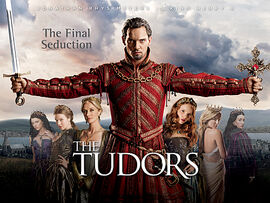 Season Four of The Tudors is the final season of the show and focuses on Henry's last years, and his marriages to his last two wives Katherine Howard and Catherine Parr. It was aired in 2010.
4.01 - Moment of Nostalgia
4.02 - Sister
4.03 - Something for You
4.04 - Natural Ally
4.05 - Bottom of the Pot
4.06 - You Have My Permission
4.07 - Sixth and the Final Wife
4.08 - As It Should Be
4.09 - Secrets of the Heart
4.10 - Death of a Monarchy
Jonathan Rhys Meyers- King Henry
Tamzin Merchant- Katherine Howard
Joely Richardson- Catherine Parr
Max Brown- Edward Seymour
David O'Hara- Henry Howard, Earl of Surrey
Laoise Murray- Lady Elizabeth Tudor
Simon Ward- Bishop Stephen Gardiner
Andrew McNair- Thomas Seymour
Joanne King- Lady Jane Rochford
Joss Stone- Anne of Cleves
Torrance Coombs- Thomas Culpepper
Frank McCusker- Thomas Wriothesley
Rod Hallett- Sir Richard Riche
Special Guest Stars:
Maria Doyle Kennedy- Catherine of Aragon
Annabelle Wallis- Jane Seymour
Storylines
Edit
Mid 1540- start of 1547.  Henry's new marriage to Katherine Howard-not long after the impulsive execution of his chief minister Thomas Cromwell- seems to rejuvenate him, and his friend Charles Brandon is glad, for religious schism continues to plague the country below a calm surface.  With three heirs secure for the throne and a vivacious, lusty young wife, Henry is content to ignore his growing age- but he is gradually forced to face both the future and the past as his daughters Mary and Elizabeth grow up, bringing with them painful memories of both their deceased mothers.  Meanwhile Katherine Howard is far from devoted to the aged, half-crippled King, and her immature and uninhibited behavior causes Henry's court to erupt with bloody scandal.  In the aftermath, Henry takes the other path that he percieves as rejuvenating- leading his kingdom headlong into an expensive war with France- after marrying his sixth and final wife, Catherine Parr.  Parr's protectiveness- along with that of Edward and Thomas Seymour, uncles to Prince Edward- of Henry's children is viewed with hostile suspicion by the fundamentalist Catholic ministers in the Church of England due to her Lutheran influences, and this generates a new squabble in the court over the right of succession of Princess Mary Tudor.   With his old friends and enemies passing away on all sides and the end of his reign drawing near, Henry once again contemplates the future... and the past.
Character deaths in Season Four:
Edit
King Henry VIII (episode 4.10, not shown)
Katherine Howard (episode 4.05)
Charles Brandon (episode 4.10)
Francis Dereham (episode 4.05)
Thomas Culpepper (episode 4.05)
Lady Jane Rochford (episode 4.05)
Henry Howard, Earl of Surrey (episode 4.09)
Lord Thomas Boleyn( prior to episode 4.01, mentioned only)
Ambassador Eustace Chapuys (episode 4.09, mentioned only)
Richard Leland (episode 4.08)
Anne Askew (episode 4.09)