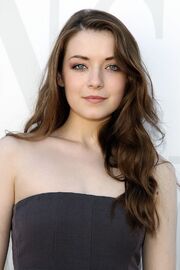 Sarah Bolger is an Irish actress, best known for her award-winning role as Princess Mary Tudor in Seasons Two, Three and Four of The Tudors.
Sarah first came to prominence as a child actress in the film In America, which she co-starred in with her younger sister.  She has also co-starred in films such as The Spiderwick Chronicles and Alex Ryder: Operation Stormbreaker.
Her performance as Mary in The Tudors (especially during Season Four) was critically praised, earning her an IFTA award for best supporting actress. She currently plays Princess Aurora in the ABC drama Once Upon a Time, having been added to the cast in the second season in 2012
Section heading
Edit
Sarah Bolger was born in 1991 in Dublin, Ireland, and like her character Mary, is a practicing Catholic. Despite her surname, she is of no known relation to the actor Ray Bolger from the 1939 film The Wizard of Oz.
Ad blocker interference detected!
Wikia is a free-to-use site that makes money from advertising. We have a modified experience for viewers using ad blockers

Wikia is not accessible if you've made further modifications. Remove the custom ad blocker rule(s) and the page will load as expected.