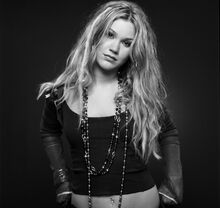 Joss Stone is an English pop/soul songwriter, singer and actress who portrays Queen Anne of Cleves in Seasons Three and Four of The Tudors. She rose to prominence in 2003 with her debut album The Soul Sessions. Since then she has released five subsequent albums, all of which have been greatly successful; four of her albums have reached the top ten in the U.K.
Stone has also appeared in the film Eragon as the fortuneteller Angela In 2006, her film debut. She was born in 1987 in Dover, Kent, England.
Ad blocker interference detected!
Wikia is a free-to-use site that makes money from advertising. We have a modified experience for viewers using ad blockers

Wikia is not accessible if you've made further modifications. Remove the custom ad blocker rule(s) and the page will load as expected.